american idol...
for second elimination round, hari nih(petang khamis pukul 4.00pm, 8.00pm and 11.30pm) baru tau dua lelaki dan dua pempuan yang terkeluar, tapi sajer lah kan... anyway, since i tak payah vote (takleh vote sebenarnya... muahahahaha) so, suka hati lah kan kalau nak tukar-tukar favourite... muahahaha... semua nih my top three favourites lah nih... lelaki dan pempuan... but like i said before, anytime boleh tukar nyer... muahahahaha... bergantung pada performance diaorang that week... so
kak aidid
, rambut panjang ker, muka cute ker, semua tuh tak diambil kira tau... muahahahaa... (tengah tunggu gak
constantine
nyanyik sambil gesel-gesel rambut palsu celah kangkang dia... muahahahahahaa)... jangan marah
kak aidid
, nanti kena jual... menncciikk... muahahahahaa...
anthony fedorov...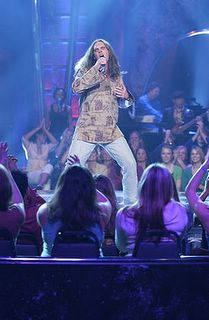 bo bice...
anwar robinson...
wow!!!memang susah nak pilih among the guys sebab semuanya bagus-bagus belaka... dua kali i tengok (pukul 8.00pm and 11.30pm) just to make sure i buat pilihan yang tepat... muahahahaha... macam jadik judge lah pulak... but this week, i dropped
constantine
and masukkan
anthony fedorov
as my top three yang i suka... he amazed me in the second round...
constantine
, well... so so jer lah... control sangat... kalau kat malaysia nih mesti orang cakap terlalu kepit suara... muahahahah...
bo bice
pulak memang best performance dia!! sampai meremang bulu roma!!! tapi
cikgu nuar
still my number one favourite!! he has that extra edge berbanding dengan orang lain.. errr, this is my opinion lah yek... sapa yang terkeluar minggu nih? hhhmmm... my guess, it will be
joseph murena
and
scott savol
...
scott
has a beautiful voice, but his choice of songs... hhhmmm... forgettable.. again, this is just my opinion...
mikalah gordon...
jessica sierra...
carrie underwood...
to me,
nadia turner
punya performance this week langsung tak memberangsangkan... dua kali tengok pun i masih rasa the same way... but
jessica sierra
... wow!!! wow!!! wow!!! she doesn't impressed me much masa last week punya performance, but this week, again, wow!! wow!! wow!!!
mikalah gordon
pun best jugak!! something different i know she tries so hard not to annoy anyone... muahahahaa... kesian dia sampai kena zip mulut!!! muhahahhaa... kelakar!!! but i liiikkeeee!!! again, no matter what
randy - 'the whatsup man because my eye sight are so bad so all of you look like men to me'
,
paula - 'the ditto whatever randy says because my brain is too small to think for myself'
and
simon - 'the everyone must be a hotel singer because i ran out of bad things to say'
cakap, i still think
carrie underwood
performed much better than the rest of the girls or maybe bawah sikit kot dari
jessica sierra
... anyway, the two girls yang i rasa kena keluar this week could be
celena rae
and
janay castine
and
lindsey cardinale
and
amanda avila
... eh, four lah pulak... muahahaha... takpalah, i don't care... mana-mana antara empat tuh pun takpa...
ok, about
sepet
on friday... nih again kopipes dari entry kat bawah... tiket-tiket sudah dibeli yek tuan-tuan dan puan-puan semua... terima kasih pada
chail
yang banyak membantu... terima kasih gak untuk
datuk w
dan
madus2
nya yang sama-sama tolong beratur dan meneman tengok ikan berjoget... best sesangat! so, alhamdulillah, tiket dah confirm! oh by the,
sempoii
...
adifashla
is coming, insyaAllah...
sm
, buang senyum tuh... hikhikhik...
suggest lah nak jumpa pukul berapa... but i do hope that takda yang datang lambat lah... kesian pulak nanti orang yang kena tunggu nak bagi tiket kat luar tuh nanti... i lah orang tuh... muahahahaha... anyway, kalau kita datang awal, at least dapat lah berkenal mesra antara satu sama lain... borak-borak dulu, lepak-lepak and have dinner first ker... i think i will be at
klcc
about 7.00pm kot... but again, lets all sama-sama discuss it, ok... waaahhh, tak sabarnya nak tengok
sepet
nanti!!!
pictures from
idolonfox
note: i went and visit red punya blogdrive tadik, i was laughing so hard sampai senak perut... muahahaha... muahahaha... muahahahaa... red, your entry on 'memo kepada semua staf' is so hilarious! muahahahaha... congrats bro!!! i would love to have your permission to email that piece to my friends and colleagues in my office, so let me know, k...